16 Adorable GIFs of Dogs Right as They Fall Asleep
These precious pups are struggling to stay awake, and they can't fight it any longer.
1. "I'm awake. I'm awake. I'm awake… I'm not awake."
2. "WOAH, WHAT? WHO'S THERE??…I'm cool."
3. "I am not going to fall asle–You didn't see that did you?"
4. "These stairs are too slippery for naps anyway"
5. "Your story is boring me."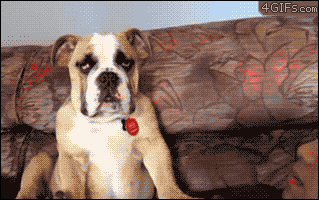 6. "Don't worry, I'll guard the fence. I'm not tired at all. Unrelated: When's nap time again?"
7. "So sleepy from all the coziness."
8. "I promise I'm not tired. I'm just gonna rest my snout right here and close my eyes."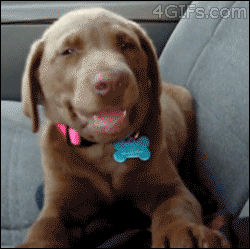 9. "Can't. Keep. Eyes. Open. Must. Take. Fourth. Nap. Today."
10. "I'm so over today."
11. "Aaand… I'm out."
12. "Come on, now. Stay awake! You can do this! Okay, no one saw that… Look alive out there!"
13. "I think I can. I think I can… I can't."
14. "If I just keep standing, I won't fall asleep. Uh oh, my head's falling a bit. Now I'm starting to wobble. I'm out."
15. "I sleep better like a roly-poly bug."
16. "Nigh Nigh."
Cuddle with your dog a lot?
Sign up so you have something to read with them.